Briefly About Me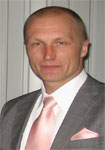 My name...
Is Hans Fredrik Halvorsen, and I am the owner of this - and other, web sites.
I live...
In the city of Kristiansand S, in the lovely, most southern part of Norway. I am originally from the northern part of Norway, but moved to the south in November 1998, and I have not regretted it one day since.
I have...
Varying and all-round work experience. I am, in addition to being a Handy-Man, a self-taught 'semi-techie' and I have been online since the middle of year 2000. Part-time netpreneur, with all that is accompanied with that.

My aim in life...
Is first and foremost to care of myself, my family and my life's true friends. Besides from that, I would be quite happy to be successful with my online endeavours.
Okay, okay... I would like to have som more money in my account, an organized life, a newer car and a maintenance-free brick house with my own swimming pool. Maybe even also a Cocker Spaniel, named King.

Ooooh, and I would also like to have a 50 foot "house boat" to travel & explore the world toghether with the woman of my dreams...

Feel free to do something about any of all that - anytime!