Svalbard - And My Great-Grandfathers Achievements
| | |
| --- | --- |
| Norsk / Norwegian | Engelsk / English |
| | |
| | |
Background...
My interest in Svalbard - and place names on Svalbard particularly, were awakened for a good many years ago. Early in 1996 my family received new and very interesting knowledge about my great-grandfather Angell Marensius Halvorsen (1889 - 1970).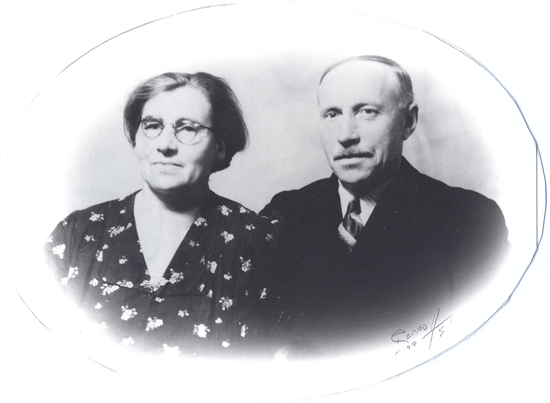 Angell Marensius Halvorsen, with his wife Amanda


It turned out that he in his time, between the years 1913 and 1925, had participated in a number of expeditions to Svalbard, and thereby obtained places named after him. Our then new-found knowledge of his achievements covered in the first instance only "Angell Mountain", but I got in my quest confirmed that two other places were named after him, "Angell Hook" and "Angell Skaret".
When I started my research for more information, confirmation and further documentation on the aforementioned place names, it should prove that there was quite a surprise waiting.
Svalbard has a fantastic, very interesting and very fascinating history, which spans several hundred years and that deals with probably hundreds of thousands of people. When it is stated that the archives - only in Sweden, for the Swedish Spitsbergen companies in 1950 accounted for an entire 52 shelv meters, you can to a certain extent, understand the scope of it and that it took the full 12 years to complete Svalbards later, economic and scientific history.
It would therefore be virtually impossible to re-tell EVERYTHING that involves this magical land in the north, but I've tried the best I can to make a small excerpt of the history, so that a better understanding and knowledge of, the country can be achieved.
I have through my research not only gained insight into this country's magical and fascinating history, I have also gained knowledge about my great-grandfathers achievements in the beginning of last century.
I have made a little knowledge and history part to put everything on Svalbard, including place names, in a better and hopefully a more understandable perspective. Those who might be interested in this, can click on the link below for some additional information about Svalbards history:
| | |
| --- | --- |
| Norsk / Norwegian | Engelsk / English |
| | |
My Great-Grandfathers Achievements...
In 1996 I got handed over a small note from my mother, with some hand written information on it. The information that appeared on this note was virtually the same as the information I later found in "The Place-Names of Svalbard - Nr. 80 (1942)":




Description "Angell Mountain",
"The Place-Names of Svalbard - Nr. 80 (1942)", page 48

When I later went to the procurement of the most recently published book about the place names on Svalbard, "The Place Names of Svalbard - Nr. 122 (2003)", the three places were further confirmed: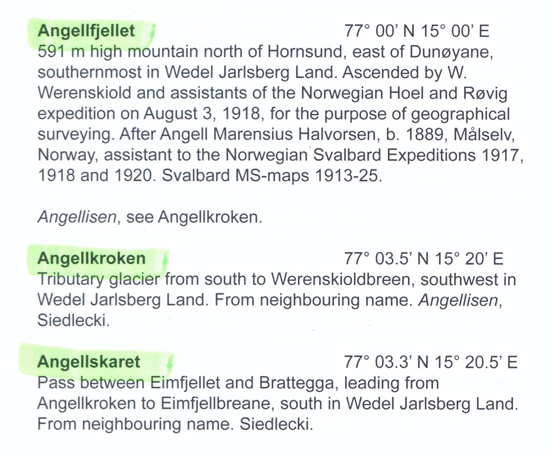 Description "Angell Mountain",
"The Place Names of Svalbard - Nr. 122 (2003)", page 30
And I just naturally had to acquisit a map of this area: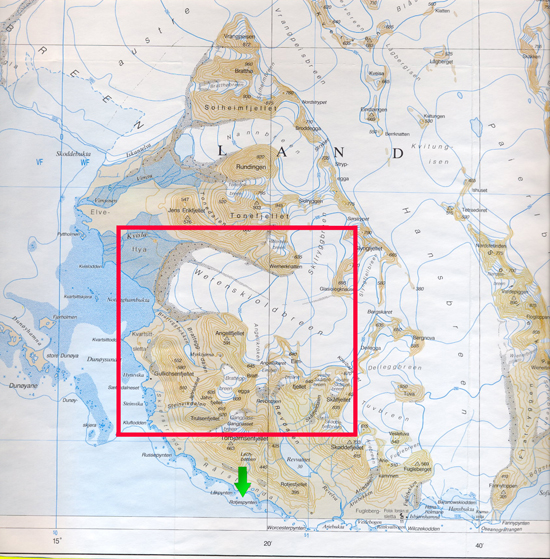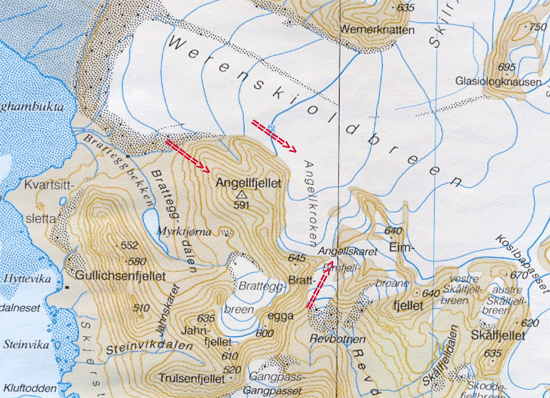 "Angell Mountain", "Angell Hook" and "Angell Skaret"
Map B12, Wedel Jarlsberg Land

My research ...
I have through my research had the opportunity to examine some of the history that lies behind some place names. Most place names in Svalbard speaks in a way for themselves. Many places have been named after the natural conditions in a place, or it can hide a particular nature formation behind the name.
Other places may have been named after historical events, the use of a place or history - as it has either wanted to give praise to, or for people who physically have even been on the places that is given name, such as for example, my great-grandfather's "Angell Mountain ".
I wrote a letter to the Polar Institute, and asked nicely if I could obtain copies of what they had of documentation, which could confirm that the names actually were after my great-grandfather, and I received, among other things, this: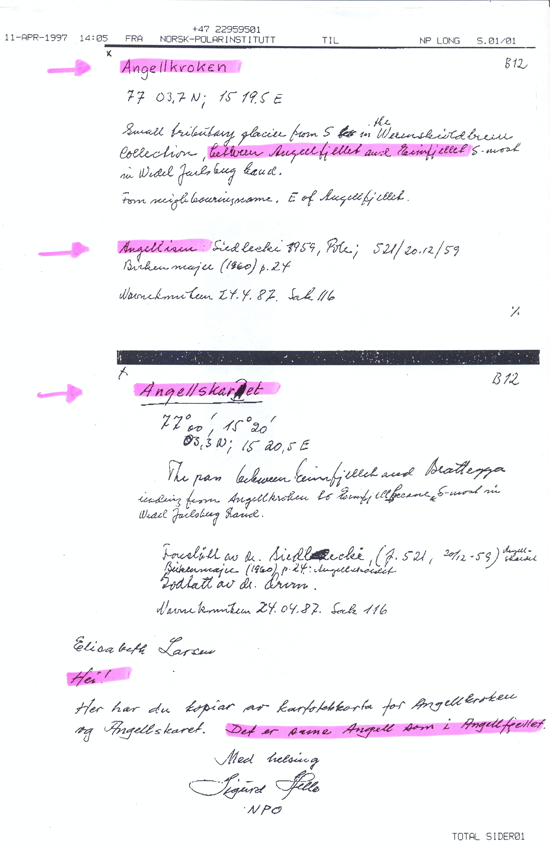 Copy of card-index files for
"Angell Hook" and "Angell Skaret"

When I discovered the name "Angell Ice" on the card-index above, I sent a letter to the Norwegian Polar Institute and asked for documentation that would confirm this name. And I received an explanation: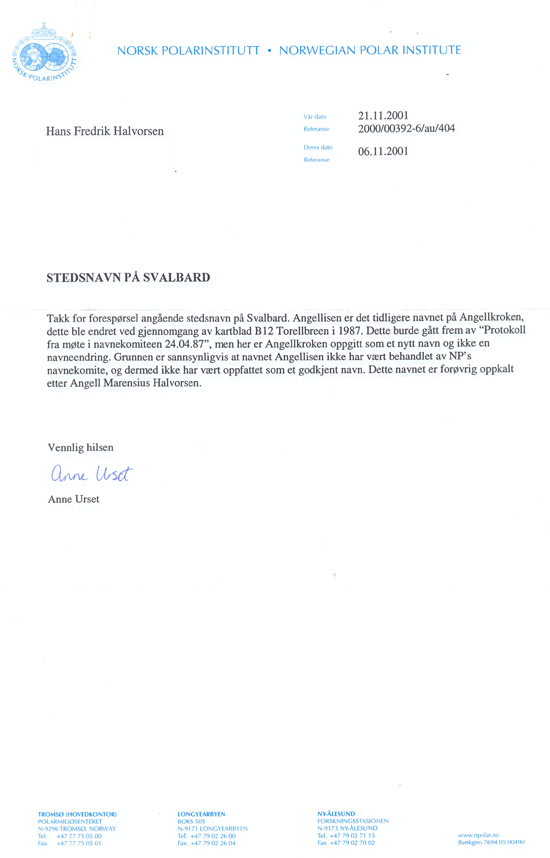 Letter from the Norwegian Polar Institute
regarding the request for "Angell Ice"
The body of the letter says:

"Place names on Svalbard"
Thank you for your inquiry regarding the place names on Svalbard. Angellisen (Angell Ice) is the former name of Angellkroken (Angell hook), this was changed by a review of kartblad B12 Torellbreen in 1987.

This should have been emphasized in the protocol from the Name Committee on 24.04.87, but Angellkroken (Angell Hook) is here stated to be a new name and not a name change.

The reason is probably that the name Angellisen (Angell Ice) has not been considered by the NP's name committee, and thus have not been apprehended as an approved name. This name is however named after Angell Marensius Halvorsen.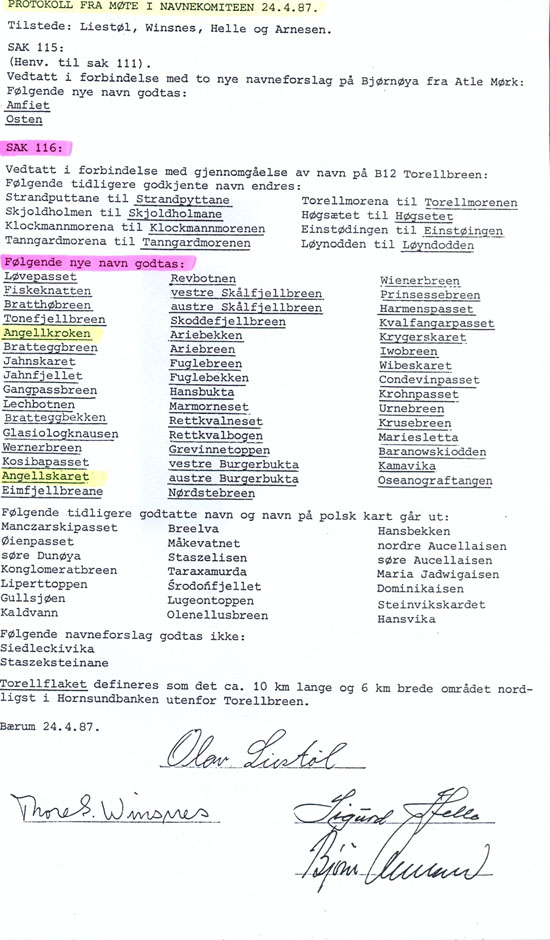 Attachment to the letter from the Norwegian Polar Institute
regarding the request for "Angell Ice"

Minutes of a meeting of the Name Committee, 24 April 1987
The minute says:

Case 116:

...

The following new names is accepted:
...

Angellkroken (Angell Hook)

...

Angellskaret (Angell Pass)

I also found this story...
- Rumors of gold!
In a letter dated 7 April 1917 naval Captain Sverre Røvig announced to the scholarshipholder Adolf Hoel that he in 1914 had received credible information from a man that there was gold on Spitsbergen. This information had been confirmed by others who had been able to tell that a winter-settler had found a gold-containing ore in Spitsbergen. However, he had died the same winter without giving any details about the site. They knew where the winter-settler had had his station and the place had been explored later, but only quite superficial without geological assistance.
Røvig, who had participated in expeditions to Spitsbergen as typographer in the years from 1911 to 1914 - and that in 1917 and 1918 together with Hoel had led the Norwegian government supported expeditions to Spitsbergen, announced to Hoel simultaneously that it was his plan to form a company of interest to explore and occupy the land on Spitsbergen.

The gold deposits should be investigated first of all, but it also incorporated in the plan to occupy a coal-bearing area. It was planned that an expedition was sent to Spitsbergen in summer 1917, and Røvig wanted to know if Hoel could participate as a geological leader of the expedition.
Hoel made a lot of interest for Røvigs plan, but was himself cut off from participating in the expedition. He, however, presented the case for mine engineer Anders K. Orvin who had participated in Hoels expedition to Spitsbergen in summer 1913. He declared himself willing to follow the expedition as a geologist on to specific conditions, which Røvig was notified of by a description from Hoel of 12 April 1917.
After this Røvig set to work to obtain the necessary capital, that he had formed preferably amongst his connections in Tønsberg and Sandefjord, and in the spring of 1917 the holding company Spitsbergen Mineral was formed, essentially consisting of shipowners and whale shipping companies in these two cities.
The holding company's purpose would be to "seek, investigate and acquire ore, mineral and coal deposits on Spitsbergen". It was started with a capital of NOK kr. 80,000, - consisting of 80 parties á kr. 1,000,-. Trader Hans M. Vik - Tønsberg, and Sverre Røvig was selected for board of directors.
The holding company got an authority to send an expedition to Spitsbergen to look after gold by Hornsund after Røvigs directions. Røvig had declared himself willing to lead such an expedition.
- The expedition summer of 1917
Already in the early summer of 1917 the board had come so far with the preparations that an expedition could be sent to Spitsbergen the same summer. The holding company had been successful in creating such an arrangement that the expedition was included as part of the state-supported Norwegian Spitsbergen expedition the same year.
The expedition left Tromsø (Tromsoe) 15 July with the engine cut is "Dyrstad" and arrived at Green Bay on Spitsbergen three days later. From there they went south to Hornsund, where it was carried out surveys of the conglomerates and quartz that they thought was gold bearing. During these investigations, it was also found a coal-bearing area on the south side of the inlet to Hornsund. After investigations were completed two fields by Hornsund were occupied.
On one of the fields that was the coal-bearing, and which was occupied 10 August, there were set up two occupation boards;
One by a winter-settler-station that was set up for the Russian department of the Russian-Swedish degree measurement expedition on Spitsbergen (1899 - 1902). It had the following inscriptions:
"Property Ground.
The land on the south side of Hornsund between Goose Harbour and the west coast in the depth of 5 km belongs to Spitsbergen Mineral, Tønsberg.

Annexed 10/8 - 1917. Sverre Røvig

Signed in the presence of:
Adolf Hoel. Staxrud Olaf"
The second board that was set up on the west side of a river that comes from a water 3 to 4 kilometers west of Goose Harbour, had the following inscriptions:
"Spitsbergen Mineral, Tønsberg

Annexed 10/8 - 1917
Sverre Røvig

Signed in the presence of:
Adolf Hoel. Olaf Staxrud"

On the other field that was occupied on the north side of Hornsund, there were also set up two occupation boards, the one in the fjord bottoms corner, about 50 meters from the shore and about 400 meters east of a hunting cabin.
From Hornsund the expedition went to Bell Sound, where it was carried out surveys in a coal field by Kapp Lyell. It was decided to occupy this area also. The occupation was carried out on 26 August. An occupation board was set up about 40 meters west of a cabin on the beach nearly in the middle of the coastline that belonged to the occupied area. The board had the following inscriptions:
"The holding company Spitsbergen Mineral owns the area between Foxbræ (Renard Breen) and Kapp Lyell with adjacent coastline.

Annexed 26/8 - 1917.

A. K. Orvin. W. Werenskiold
Angell Halvorsen"

Three additional occupation boards with approximately the same text was set up in different places in the occupied area.
The occupied field west of Gåshamna was 52 square kilometers, the field on the north side of Hornsund between the fjord bottom and Burger Bay 48 square kilometers and the west of the Renard Recherchefjorden between Glacier and Kapp Lyell had an area of 26 square kilometers.
In addition to the geological surveys that were made, there was also taken up maps of the occupied areas. In a description of 13 November 1917 it was reported to the Norwegian Ministry of Foreign Affairs.
After returning, the samples that were taken out, analyzed. It was found that samples from Hornsund were actually gold-bearing, but they contained too little gold to be recoverable.
The biggest surprise ...
Me and my family got the biggest surprise in 2003 - 2004. I was a student and took the upper secondary school subjects, and had - almost naturally, "Place Names On Svalbard" as project assignment in the Norwegian subject.
Through the work with the project assignment, I did not only get new knowledge of over ten mountain that my great-grandfather with predominantly probability took part in ascending - and contributed to the exploration of, I also made a discovery which had been completely and totally unknown to the whole family.
The ten mountains that my great-granfather with predominantly probability took part in ascending - and contributed to the exploration of are:
Torbjørnsenfjellet: Ascended 9. august 1917 and 29. juli 1918
Cebysevfjellet: Ascended 12. july 1918 in connection with investigations.
Ascended 16. july 1918 and 18. august 1918
Skoddefjellet: Ascended 13. july og 25. juli 1918
Klockmannfjellet:Ascended 3. august 1918
Peder Kokkfjellet: Ascended 7. august 1918
Buggefjellet: Ascended 13. august 1918
Palanderfjellet: Ascended 31. august 1918
Keilhaufjellet: Ascended 25. and 27. july 1919
Hilmarfjellet: The heights of 825 and 692 meter was ascended 7. august 1919
Fløyfjellet: Ascended 20. august 1919
One day I browsed in the "The Place-names of Svalbard - Nr. 80 (1942)" I found this by chance:



"Halvorsen Mountain",
"The Place-Names of Svalbard - Nr. 80 (1942)", page 175

"Halvorsen Mountain",
"The Place Names of Svalbard - Nr. 122 (2003)", side 171
"Halvorsen Mountain"
370 meters high mountain between Blomli and Thoerndalen, northwest of Wedel Jarlsberg Land. After Angell Halvorsen, Målselv, Norway, assistant at the Norwegian Svalbard Expedition 1917.

Svalbard MS-maps 1913-25. Halvorsens Mountain, Svensk kart 301, 1921

And then of course I had to get a map of this area also:

"Halvorsen Mountain",
Map B11, Van Keulen Fjord - Wedel Jarlsberg Land

So then we are up in a total of 4 places that are named after him:
Angellfjellet
Angellkroken
Angellskaret og
Halvorsenfjellet
And there had been set up at least 4 occupation boards with his name on it on different places in the occupied area on Svalbard. Is it strange that one are proud of one's great-grandfathers achievements?! I bought an additional 10 to 15 maps and copied all of the information and the pictures that I had discovered, arranged it neatly in a perm, and sent this out to the rest of the family as a Christmas gift one year :-))
My youngest son, Andreas Marensius Halvorsen (born 1999), is named after his great-great-grandfather, Angell Marensius Halvorsen. There is hardly any better way to give praise to - and bear the legacy from him further on?!
When "Old Grandma" in Bardufoss - Målselv, heard about this choice of name, she got happy tears in your eyes.

Note! All pictures below:
Private photos, Copyright © HansFredrik.no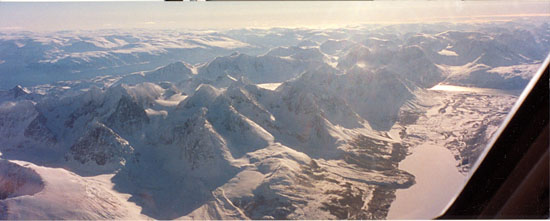 Longyearbyen









"Angell Mountain" in the foreground
One of my many dreams is to one day take all my three kids up to Svalbard, visit and maybe ascend both "Angell Mountain" and "Halvorsen Mountain" - and not forget, search for one or more of the occupation boards.

Both maps is finally united: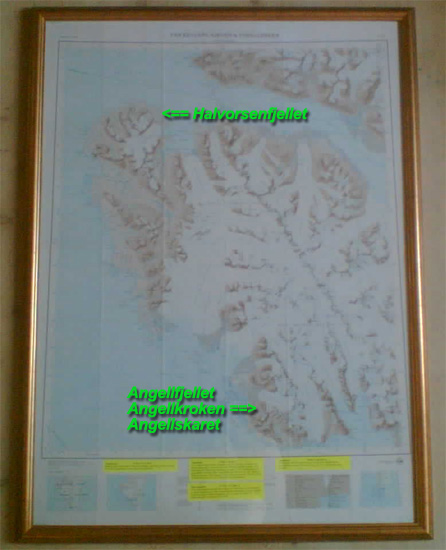 | | |
| --- | --- |
| Norsk / Norwegian | Engelsk / English |
| | |
| | |
Sources:
Hoel, Adolf, 1966: "Svalbards Historie", Volume I - III
Norges Svalbard- og Ishavsundersøkelser, 1942: "The Place-Names of Svalbard - Nr. 80"
Norges Svalbard- og Ishavsundersøkelser, 2003: "The Place-Names of Svalbard - Nr. 122"

http://www.miljo.npolar.no/placenames
http://npweb.npolar.no